Cassette Tape to CD and MP3 Conversion
Explore how our professional cassette tape conversion services can benefit you.
Cassette tapes hold countless memories, from vintage music collections to personal recordings of special moments. Over time, these tapes can degrade, leaving you with the fear of losing valuable content. We understand the importance of preserving your memories and use high end, well maintained equipment to transfer your cassette tapes content onto CD and MP3, ensuring that your audio is safe and accessible for generations to come.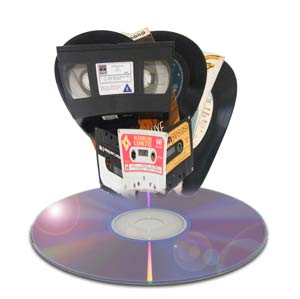 The Conversion Process
Digitization: use professional audio restoration equipment with top quality Analogue-to-digital converters designed to deliver the highest quality results while maintaining the integrity of your original recordings
Quality Enhancement: Your audio is then digitally enhanced to achieve its optimum quality. Were deemed appropriate, volume is increased, background noise and hiss is reduced thus improving clarity for a superior listening experience.
Conversion: Depending on your choice, Your tapes are either:

Burnt to CD with all tracks indexed. To compliment the recordings we can also print whatever text you like directly onto the disc (with paper inserts if needed).
Converted to MP3 format with individual tracks properly indexed, named and tagged.

Quality Check: A final quality check to ensure the final product meets our high standards is then made.
Delivery: We send you the converted CDs or digital files via secure mail or digital download, depending on your preference.
Benefits of Our Service
Preservation: Safeguard your irreplaceable audio recordings from tape degradation and loss.
Enhanced Quality: Experience improved audio clarity and reduced background noise.
Convenience: Easily access your converted audio files on modern devices.
Personalized Service: We treat every tape with care, ensuring your unique memories are preserved.
How to Order
Ordering our cassette tape to CD and MP3 conversion service is simple:
Contact Us: email or call to discuss your project and receive a quote.
Choose Your Format: Decide whether you'd like your tapes converted to CDs, digital MP3 files or both.
Shipping or Drop-off: If mailing your tapes, put them in a padded jiffy bag with any further instructions, your return address and contact details. If you are local you can post them or hand them to us personally during business hours.
Payment: Pay for your service conveniently online or in-person if dropping off tapes.
Sit Back and Relax: We'll take care of the rest, soon you'll have your converted audio to enjoy and cherish.
Rates
Our competitive pricing ensures you receive top-quality conversion services without breaking the bank. Rates vary based on the length of tape, number of tapes and the format you choose (CD or MP3). If you have more specific needs, Contact us for a more personalized quote.
Tape Cassette to CD
Tape Cassette: Up to 45 minutes £25
Tape Cassette: Up to 60 minutes £35
Tape Cassette: Up to 90 minutes £50
Reduced rates for 3 or more Cassettes. Call to discuss
Tape Cassette to MP3
Tape Cassette: Up to 45 minutes £25
Tape Cassette: Up to 60 minutes £35
Tape Cassette: Up to 90 minutes £50
Reduced rates for 3 or more Cassettes. Call to discuss
Don't let your cherished cassette tape memories fade away. Contact Bump Studios Digital Media today to revive them onto CD or MP3 and relive those memories.