Vinyl to CD and MP3
Vinyl to CD and MP3 Conversion Service for Audiophiles!
Welcome to our Vinyl to CD and MP3 Conversion Service! Rediscover your favorite vinyl records by preserving their timeless music in a modern digital format. Whether you want to enjoy your music on CD or as MP3 files, we've got you covered. Below, we'll guide you through the processes involved, highlight the benefits, rates and how you can place an order.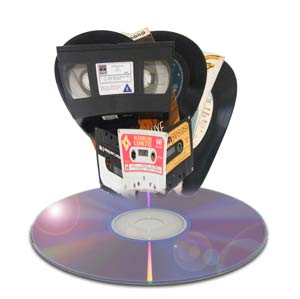 The Vinyl to CD and MP3 Conversion Journey
Vinyl Cleaning and Inspection Before the conversion process begins, we carefully clean and inspect your vinyl records to ensure they are in the best possible condition for playback and conversion.
High-Quality Audio Transfer Our skilled technicians use state-of-the-art equipment to transfer your vinyl records to digital format. We maintain the integrity of the original sound, capturing every detail.
Audio Restoration To enhance the quality of your converted audio, we perform audio restoration, removing pops, crackles, and background noise, ensuring the best listening experience.
Format Conversion We provide two conversion options:

CD: Your music is burned onto high-quality CDs with professional-grade printing for album artwork and track listing.
MP3: Your digital music files are carefully encoded, tagged, and organized for easy playback on any device.
Benefits
Preservation of Memories: Preserve your cherished vinyl collection and enjoy them in digital format.
Convenience: Easily play your music on modern devices, in your car, or share it with friends and family.
Audio Enhancement: Our restoration process improves the audio quality, bringing new life to old recordings.
Customization: Choose between CD or MP3 formats to suit your preferences.
How to Place an Order
Gather Your Vinyls: Collect the vinyl records you want to convert.
Contact Us: email or call to discuss your project and receive a quote.
Shipping: Send us your vinyl records using a secure courier service or if you're local you can drop them to us in person. We'll handle them with the utmost care.
Choose Format: Let us know if you want CDs, MP3 files, or both.
Conversion: Our experts will convert your vinyl records and perform audio restoration.
Receive Your Music: We'll send you the converted music along with the original vinyl records.
Prices
Our standard pricing is detailed in the boxes below but if you need a tailored quote then just get in touch. Prices differ for the chosen media (CD or MP3). To get a personalized quote, please contact us or give us a call. We offer competitive rates and discounts for larger collections.
Revive your vinyl memories with our Vinyl to CD and MP3 Conversion Service. Experience the best of both worlds by enjoying the classic warmth of vinyl and the convenience of digital formats. Choose Bump Studios and get started preserving your music collection!
Vinyl Record to CD
Each vinyl record is burnt onto cd with each track indexed.
7" Single: £15
12" E.P: £20
12" Album: £30
Postage within UK mainland: £7
Vinyl Record to MP3
Tagged with artist, titles, track number, etc
7" Single: £15
12" E.P: £20
12" Album: £30
Postage within UK mainland: £7
Reduced rates for 3 or more Vinyl Discs. Please contact us to discuss